Outdoor Literacy area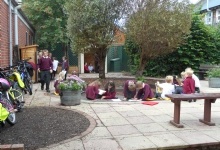 The introduction of the 'outdoor literacy area' proves a big hit with the children.
During the summer holiday more than one area of school under went a transformation. With the help of Southern Electric and with funding from the TSA the 'quiet area' by the Year 6 classroom was transformed into an exciting literacy. Children were certainly enjoying the sunshine and a little bit of peace and quiet where they could enjoy a good book or sit and do some writing.