Parent Writing workshop in GIB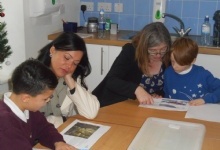 Following GIB's assembly parents were invited back to the classroom to do some story writing with their child.
GIB would like to say a huge thank you to all the parents that came to support the writing workshop following the assembly today. Using Pobble 365 as a writing stimulus the children and parents were invited to continue the story. It was great to hear some of the children pointing out to parents that they needed a comma here or an adjective there. All the children had a great time sharing their creative ideas with their parents and we are looking forward to reading some of the publsihed work on Pobble.