Year 6's Enterprise Project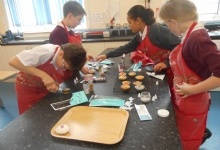 For their Autumn term Enterprise Project, Year 6 children set up their own café for parents to buy sweet treats and drinks after watching the FS and KS1 Christmas performances.
The project involved: a visit to Waitrose to price up the items they would need; cooking; serving parents and calculating change; working out percentage profits. Well done Year 6!
They managed to raise well over £200 and even donated half of their proceeds to Oxfam.
Click here to see more photos!