KS1 Christmas Production 2017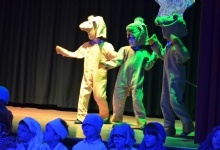 This week saw the annual Christmas productions—Foundation Stage performed The Nativity and Key Stage 1 performed Lights, Camel, Action!
Both productions were excellent and very well received by all the parents and other visitors.
These plays are always a highlight in a busy year and they really do start the festive season well!
We are very proud of the inclusive nature of our school and that everyone can and does have a part to play.
I hope you all have a great Christmas break and we look forward to seeing you all again on Thursday January 4th 2018!
Click here to see some photos of The Nativity and Lights, Camel, Action.