Robin Hood!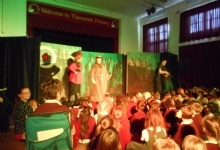 Enriching the curriculum through drama.
Robin Hood comes to Thameside!
Over in Nottingham Castle the sheriff is planning his next evil deed; taxes on the poor are to be doubled to fund his wedding to the beautiful Maid Marian!
Thank you to M & M Productions for trating Thameside children to such a brilliant show on Wednesday!