Y5 at the Junior Music Festival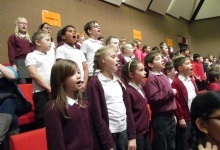 Sinigng about friendship at the Hexagon!
On Monday, scores of primary schools gathered together for the Berkshire Maestros annual massed singing event, supported by bands and ensembles from regional music centres. The theme this year was Friendship, with songs drawn from TV, stage and screen and performances from individual schools, all reflecting on the importance of friends and what they mean to us. It was a wonderful collaboration between schools and students engaged in the Music Hub, and an opportunity to share their passion for making music. The evening was full of joy, happiness and amazing achievements!
Click here to see more photos!