Parents show their support!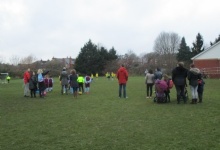 Parents showing the Thameside values!
Yesterday, Miss Mulligan and Miss Roseaman took some more children to play a football match at St Anne's Primary.
They were delighted to see so many parents and siblings who turned up to support their children. Even other children (who weren't selected to play this time came to cheer on their peers!
Miss Mulligan, Miss Roseaman and the school would like to say thank you for all of your support as it made the atmosphere fantastic!