Foundation Stage Nativity!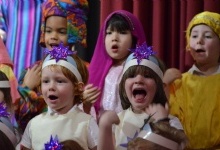 Parents were in for a treat on Tuesday!
Foundation stage parents and carers must have been very proud on Tuesday when they watched their children perform in their first nativity.
The singing was beautiful and the costumes amazing!
Thank you to staff for all of their hard work and to all of the children who took part.
Click here to see more photos.