Clubs

Our after school clubs change throughout the year, so we have created this page for your convenience. At the bottom of this page, you will find a quick overview of the clubs on offer this term including booking links and other useful information.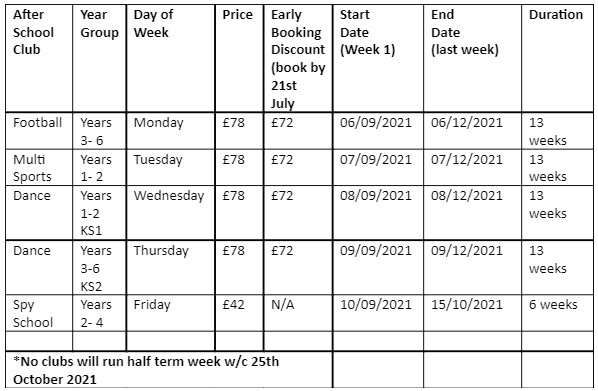 All courses are booked at:
Or click on this link which will take you directly to the bookings page:
ACTIVE | Sports Xtra - Reading & Newbury
Please note there are early booking offers on some of the clubs if booked by 21/7 with a free week, pay for 12 and get 13 sessions!
Please note we do not accept childcare vouchers. We only accept online bookings and payments via our website.
Any problems or questions feel free to contact me
Best wishes
Steve West
MD Sports Xtra Reading Ltd
07584-474348
Miss. Palmer's Sewing Club (Limited places available for children in Year 4, 5 & 6 only)
When: 8 sessions starting Week 1: Thursday 30th September to Week 8: Thurs 25th November
Half term (28th Oct no session)
Afterschool until 4.30pm
Price: £30 per child for 8 sessions, all sewing resources included.
Limited to six children from either year 4, 5 and 6.
Miss Palmer is running a new sewing club after school starting Thursday 30th September. This time she will be working with children over eight weeks to create their own Christmas Stocking. Unfortunately, she is only able to offer limited spaces due to the number of sewing machines available. Places will be offered to those who book first but those that missed out last time will be given priority over the spaces.
Miss Palmer hopes to offer further opportunities in the Spring and Summer Terms 2021/22.
To register your interest in a place for your child, please email sbm@thameside.reading.sch.uk .
Payment can be made in cash via the office, childcare voucher or Bank Transfer to the school account. Please ensure you put reference: Sewing Club as your reference.
Thameside Primary