General Information

Absence Request
You can download our Absence Request Form for parents and carers at the bottom of this page or request a paper version from the school office. Before completing the form, please read our Attendance Policy. Thank you.
Safe travel to school
https://www.reading.gov.uk/schooltravel
In order to support the return to school and travel to school Brighter Furtures for Children have created a web-portal which aims to provide all the latest information. This can be found at: www.reading.gov.uk/schooltravel.
At this site, they have created an interactive map which allows users to explore and understand different travel options to schools including walking, cycling and public transport routes. They have also produced for every school in Reading a downloadable school specific infographic providing bespoke travel advice for pupils and parents to encourage safe and active travel. As well as information on walking, cycling and public transport links the infographic provides useful guidance on staying safe whilst travelling and other useful links.
The school day
Thameside Primary is open for 32.5 hours a week.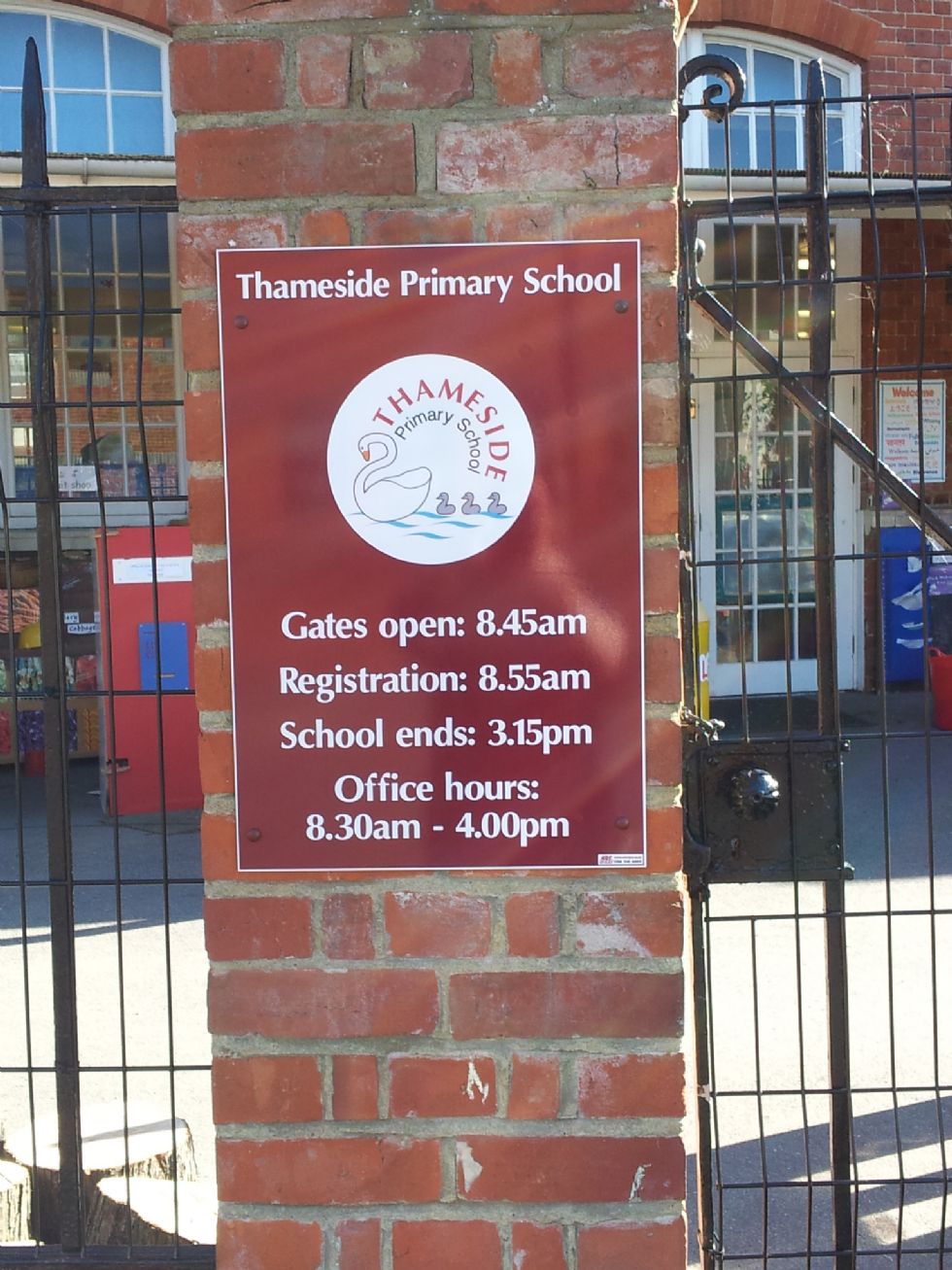 Playtimes
FS & Year 1: continuous provision
Year 2 & LKS2: 10:45am - 11am
UKS2: 11am-11:15am
Lunchtimes
FS: 11:30-12:30pm
KS1: 12:15-1:15pm
KS2: 12:30-1:30pm
---
General advice and information
SNOW CLOSURES
Please be assured that we will only close the school in exceptional circumstances and we will try to give as much notice as is reasonably practical.
In case of closure, we will contact parents through the text service (or by email for those without a mobile number). The details will be posted on the school website and the following radio stations will be notified:
BBC Radio Berkshire and Heart FM.
In order for us to contact you please make sure that your contact details are up to date.
If you would like to join the texting and/ or email service please contact the school office.
---
Download past SATS papers by clicking here.
Facebook Guidance Letter & back page
Assessment Workshop for Parents presentation
The Freedom of Information Act (FOIA) September 2013 can be accessed by clicking the links below:
Freedom of Information guide
Download the Freedom of Information guide as a pdf
If you would like a paper copy of any of the information on this website, then we can provide one free of charge - just get in contact with us!
---
Forms for Downloading
All these forms are available from the school office in hard copy.
Administering Medication - Complete this form and hand into the school office with all listed medication for your child.
Internet Agreement - Select the relevant form for your child and hand the completed form into the school office.